"Till we all come in the unity of the faith, and of the knowledge of the Son of God, unto a perfect man, unto the measure of the stature of the fullness of Christ..." (Ephesians 4:13)
There is a desperate need for spiritual maturity in the Body of Christ. The transformation of a life from one deeply entrenched in selfishness into a life full of the Spirit of God requires a genuine and profound encounter with the truth. A man must face the truth about himself, and then accept the truth of the glorious work of Jesus Christ on his behalf.
Over the past years of ministry, Doug Gregan has created an intense discipleship program built around Pure Life Ministry's
The Walk of Repentance
. This 24-week curriculum is a biblical encounter with the heart, and is supplemented with recorded sermons and other ministry materials to create a unique and powerful program. The
LEVEL 2 Discipleship Program
demands men be prepared to let the Holy Spirit search their hearts. Spiritual intimacy is critical if any Believer is to grow in relationship to Christ, and others.
New Brothers Inc. is now offering this program to any man desiring to experience a deeper walk with Christ. The next session of the LEVEL 2 Discipleship Program will begin February 25th, 2016.
The two-day program introduction will be held February 25th and March 4th, 2017, from 1:00pm to 4:00pm.


The actual program begins March 11th.





NBF Level 2 is unique in three ways:




1) Attendance is mandatory.




2) Prospective participants must register and be accepted to the program.




3) Registration is limited and will close on February 25th, 2017.



If you're interested in participating, please click the Enrollment link below to register.
We're believing God will do a powerful work in the lives of those who will press into this opportunity. Please, contact Doug for more information.
(
This email address is being protected from spambots. You need JavaScript enabled to view it.
, (978) 994-9765)
Introduction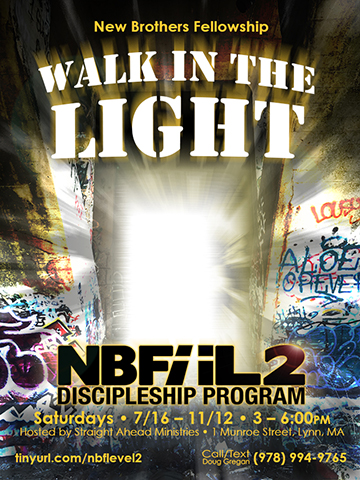 The Walk of Repentance
is often described as "a biblical confrontation with your heart." This is something that every Believer in Jesus Christ needs, in order to grow and experience genuine victory.
Jeremiah 17:9-10 tells us:
"The heart is deceitful above all things and desperately wicked; who can know it? I, The Lord, test the heart, and try the mind, to give to every man according to His ways, according to the fruit of his doings."
Proverbs 25:28 says:
"Like a city, broken down and without walls, so is a man who cannot rule his own spirit."
The biblical way for God to mature His people is to bring them by love and grace into a deep encounter with the truth. In that searching light, the Holy Spirit reveals Jesus Christ to us and moves in power to change us. This is what
LEVEL 2
is all about: growing comfortable with continually walking in the truth, without fear and condemnation, so that we can learn to govern our hearts, minds, and bodies. As we embrace this wonderful, sanctifying work, we become generous and merciful men that God can use as He sees fit.
Description
The Program will begin with a two-week introduction. During this introduction period, students will be exposed to the style of the class and the materials used. At the end of these two weeks, participants will decide if they will continue. This decision is a commitment that should not be taken lightly, as it is final and binding. The remaining course will then run approximately 16 weeks.
The main curriculum used throughout the course is
The Walk of Repentance
by
Pure Life Ministries
. We will work through approximately two-thirds of the material, and students will be left to complete the rest independently. Class homework is primarily for the student to complete on their own during each week of the course, though time will be allowed for homework questions and discussion during class. All materials needed for this program will be provided, except a Bible. Additional reference works, such as a Bible dictionary and Concordance, will be available in the classroom.
Class time will include multi-media materials, times for discussion, focused prayer, and small group work.
Enrollment
There is no cost to the student for participating in
LEVEL 2
, however, participants must complete the Enrollment Form and be accepted into the program. Acceptace into the program will be determined by Doug Gregan. Personal references may be required.