Donation Thoughts
Details

Written by Caroline Gregan
Hits: 548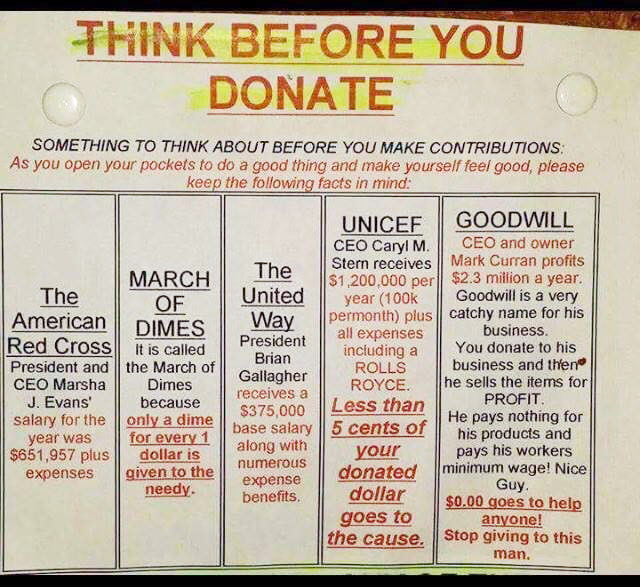 Maybe, you've seen this picture floating around on the Internet. It's upsetting to see this kind of thing, but it is wise to think carefully about who you support with your hard-earned money. God expects us to be good stewards. That's why we encourage you to support New Brothers, Inc.
New Brothers, Inc. is not a public charity, but a mission. The Gregans serve as home missionaries, and all other workers are volunteers—giving of their own time and resources. NBI does not receive enough money to be considered for an evaluation by these organizations that hold non- profits fiscally accountable. However, we can assure you that none of our Board Members, including the CEO, earn money for their services. We have one employee, Doug Gregan, the Director of all ministry. No one else receives an income, and his income is based on what we receive (up to, and not exceeding, his stated salary, which is $36,000).
We consider ourselves accountable to Lord for every penny we receive, and give Him the glory for keeping us here. We are missionaries. This is not a job, but a calling. A lifestyle choice. And, sometimes it's a very hard calling to answer, but it is our heart's desire to serve the King. It is our privilege to work alongside the awesome men and women who join us in this effort. It is our honor to support men and women during some of the hardest times of their life, and to walk with them as they learn to follow Christ. We love what we do, and every gift allows us to keep on keeping on.
So, we will never discourage you from giving to any charity, but we pray you will consider giving to New Brothers, Inc. Your financial gift not only allows us to stay on this mission field, but it helps us provide benevolence ministry to those whom we serve. It helps us provide ministry materials for volunteers. It helps us buy coffee for meetings, or take a man out for his birthday, so he doesn't have to spend the night alone. It helps us make a difference for someone else. It counts in an eternal way, my friends. It really does.
We pray you will consider supporting this ministry every month, or with a one-time gift. We also pray you will just tell those who need this ministry that we're here for them.
God bless you!
Doug & Caroline Gregan