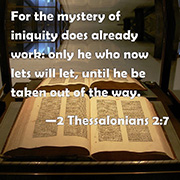 "For the mystery of lawlessness is already at work. Only he who now restrains it will do so until he is out of the way. And then the lawless one will be revealed, whom the Lord Jesus will kill with the breath of his mouth and bring to nothing by the appearance of his coming. The coming of the lawless one is by the activity of Satan with all power and false signs and wonders, and with all wicked deception for those who are perishing, because they refused to love the truth and so be saved. Therefore God sends them a strong delusion, so that they may believe what is false, in order that all may be condemned who did not believe the truth but had pleasure in unrighteousness." (2 Th 2:7–12 ESV)
I was listening to a conversation this afternoon about Madonna's recent headline where she exposed a seventeen year-old girl at one of her concerts. The girl is reported as saying…
"Seriously, why would I sue Madonna for the best moment of my life?," (the girl) told The Courier Mail. "It was the best night."
I seriously struggle to understand this thinking, this acceptance of something that in a completely different setting with different characters would be considered assault and statutory rape. How does this happen? Where does this thinking come from? In my understanding, it is fundamentally Lawlessness. The Bible describes this as a Mystery, or something that is hidden from natural understanding.
I believe we can safely say from this passage (And countless other scriptures) that lawlessness is from Satan. "You will be like God knowing good and evil…"; this is the biblical foundation of all rebellion and sin at work in the world today. A Lawless spirit, or mindset, is one that examines the judgments of God given in His Word and responds with an accusation back to God. "You are wrong! This judgment does not line up with my understanding and wisdom and I reject it."
Lawlessness can take many forms, both extreme and subtle. However, lawlessness is usually not considered such, until it crosses a particular moral or social threshold. This is what I find myself pondering today. How have we arrived at such a time and place where events like this, which are very much commonplace, are headlines; not headlines that condemn, but headlines that condone? This is a principle that I'd like to highlight for consideration, because it affects not just the World, but more importantly, the Church. Here is the principle…
Satan advances Lawlessness on the earth by taking any particular moral or social threshold and slowly moving it towards the commonplace, making it acceptable. You may already be familiar with this idea, but I cannot begin to communicate to you how important it is to understand and respond to this principle and process. The Devil is a master at using this strategy in every area of the human and Christian experience. Countless lives and families are being destroyed and brought into bondage and spiritual captivity. He has used it to make commonplace every form of sexual deviancy, as well as undermining sound doctrine and the Word of God.
A good example of this in a Christian setting is an article I read recently about a Christian author, Meagan Good, editorializing on the issue of modesty. Listen to some of her comments and see if you can recognize the language of Lawlessness in them…
When confronted by a Sister in the Lord in public recently (about a recent magazine cover where she was dressed immodestly by the woman's estimation), Good's husband spoke up on her behalf:
"Wait a minute. No! That is not what we're here for…She's not gonna cover up," he said. "She is gonna wear what she wants to wear in the name of Jesus, amen."
These subsequent comments came from an interview with Essence Magazine on the issue:
"Modesty, says Good, is always up for interpretation. "What is considered modest or appropriate differs depending on any given culture and context," says Good. "It also changes from woman-to-woman. You have to consider each woman's body type, her personality, personal perspectives and what season of life she's in…"
"I think modesty is also about your intention: What are you trying to accomplish? What are the intentions of your heart? And I know my intention is genuine."
"For Good, choosing to dress in a way where she feels her sexiest on any given day, is about her own desires, not a man's. "I want to look beautiful for my husband," she said. "I want to look beautiful because I'm 34, about to be 35, and I want to have incredible pictures to show my kids of mommy in her heyday. I want to look nice because I'm an entertainer. It's just interesting to me that there's a double standard and how unfair it can be."
I'm not trying to state that this woman is explicitly wrong in the small comments I've extracted here, but I hope you can plainly see the language of Lawlessness in her words. Everything is subjective here and for her to interpret as she deems appropriate. Even more bold and disconcerting, is the husbands assertion that this is how Jesus also interprets these issues.
What the Devil has so successfully done is to take our eyes off of the foundational work of Jesus Christ and given us permission to apply a form of unbiblical Grace to every little issue and circumstance we want to. What is the foundational work of Jesus Christ that I'm referring to? Righteousness
The Western Church has found itself robbed of power, authority, peace, and freedom all in the name of Grace. That is because the Grace of God is given freely and generously to us In Christ to perfect Righteousness. It is THIS that we have completely lost sight of. Paul says it this way…
"For as by the one man's disobedience the many were made sinners, so by the one man's obedience the many **will be made righteous. Now the law came in to increase the trespass, but where sin increased, grace abounded all the more, so that, as sin reigned in death, grace also might reign through righteousness leading to eternal life through Jesus Christ our Lord.*" (Rom 5:19–21 ESV)
Righteousness as it's used throughout Paul's writings is very often used to describe a state that mirrors that of Christ Himself. "Be ye Holy, as He is holy." is the idea being stated here. Grace is given to move God's people increasingly towards holiness that is perfected in love. The Grace of God is His power at work in us to produce a heart that desires and pursues this likeness, this holiness. This is a completely foreign concept to so many in the Church today.
What has happened instead is that Grace is increasingly used to declare my right and freedom to do as I feel best. It operates on the assertion that Jesus Christ's fundamental nature and character are different than the God of the Old Testament and all scripture. This, of course, is completely false. God is the same, yesterday, today, and forever. Christ did not come to abolish the Law, but to fulfill it… So, that it might be fulfilled and perfected in us!
This is exactly why alcohol use is dramatically on the rise, why "Christian" books are being written to justify the use of pornography to enhance marriage, why there are marijuana and beer bible studies, and the list goes on. This is why Paul says this to the Corinthians…
"Wherefore come out from among them, and be ye separate, saith the Lord, and touch not the unclean thing; and I will receive you, And will be a Father unto you, and ye shall be my sons and daughters, saith the Lord Almighty. Having therefore these promises, dearly beloved, let us cleanse ourselves from all filthiness of the flesh and spirit, perfecting holiness in the fear of God." (2 Cor 6:17–7:1 KJV)
Paul speaks of these days and this type of Believer as one who "has a form of godliness, but denies the authority." That is exactly where we are today, and it is increasing exponentially.
What is to be done? When or will there be a turn back to biblical righteousness? I know that it begins with me: First, living out this righteousness by the power and love of the Holy Spirit. And, second, by my speaking the Truth in love, to the Body of Christ. May the Holy Spirit minister to you according to your need. May we respond in genuine faith, believing that Christ is truly coming soon for a Church without spot or wrinkle.