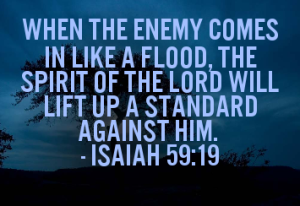 Out of Sight, Out of Mind...
I'm sorry to say, Brothers, is not victory over your sin. Just because your temptation hasn't manifest in a few days or weeks or months, doesn't mean that you're walking in victory and that sanctification is working effectually in your heart and mind. Biblical victory for the Christian man is when the Enemy, the World, Your Flesh, or the Devil, come in like a flood, the Holy Spirit of God raises up a STANDARD against it. A divine work of God is produced in your life in real-time and you know Christ is truly Lord over these adversaries. It is a work of peace and divine strength, not of striving, anxiety and fear.
"So [as the result of the Messiah's intervention] they shall [reverently] fear the name of the Lord from the west, and His glory from the rising of the sun. When the enemy shall come in like a flood, the Spirit of the Lord will lift up a standard against him and put him to flight [for He will come like a rushing stream which the breath of the Lord drives]." (Is 59:19 AMP)
Maybe I'm the only one whom The Lord has had to deal with this way (which is fine), but deliverance and sanctification from habitual sin came, and is still coming to me, through a deep, continual uprooting of wickedness in my heart; a washing and cleansing by the Word; and s slow, steady, and deliberate sowing and reaping of a new harvest in righteousness, which is distinctly and clearly from the Holy Spirit.

Victory is REALLY victory when you've been tested and proven by the very enemies you've been delivered from.

I am not trying to discourage you or condemn you, I simply want you to be honest with yourself. I've spent the past thirteen years ministering to countless men who have made big professions of faith and victory, boldly claiming Jesus as Lord and that they'd "finally got it!", only to watch them crumble when the testing came.

Please know that I've been there. I know all too well the misery and burden of bold proclamations followed by bold rebellion and sin against The Lord. The Yoke of Christ is a real thing and it really works.

"Come to Me, all you who labor and are heavy-laden and overburdened, and I will cause you to rest. [I will ease and relieve and refresh your souls.] Take My yoke upon you and learn of Me, for I am gentle (meek) and humble (lowly) in heart, and you will find rest (relief and ease and refreshment and recreation and blessed quiet) for your souls. For My yoke is wholesome (useful, good—not harsh, hard, sharp, or pressing, but comfortable, gracious, and pleasant), and My burden is light and easy to be borne." (Matt 11:28–30 AMP)
At the end of the day, the common thread through all of those I mentioned, including myself, has been the rejection of the Yoke. May The Lord speak to your heart on this matter. May you be encouraged to know that victory in Christ is truly possible. If you need prayer or want to talk, feel free to contact me. I am praying for you today.